PERVERSION - DIES IRAE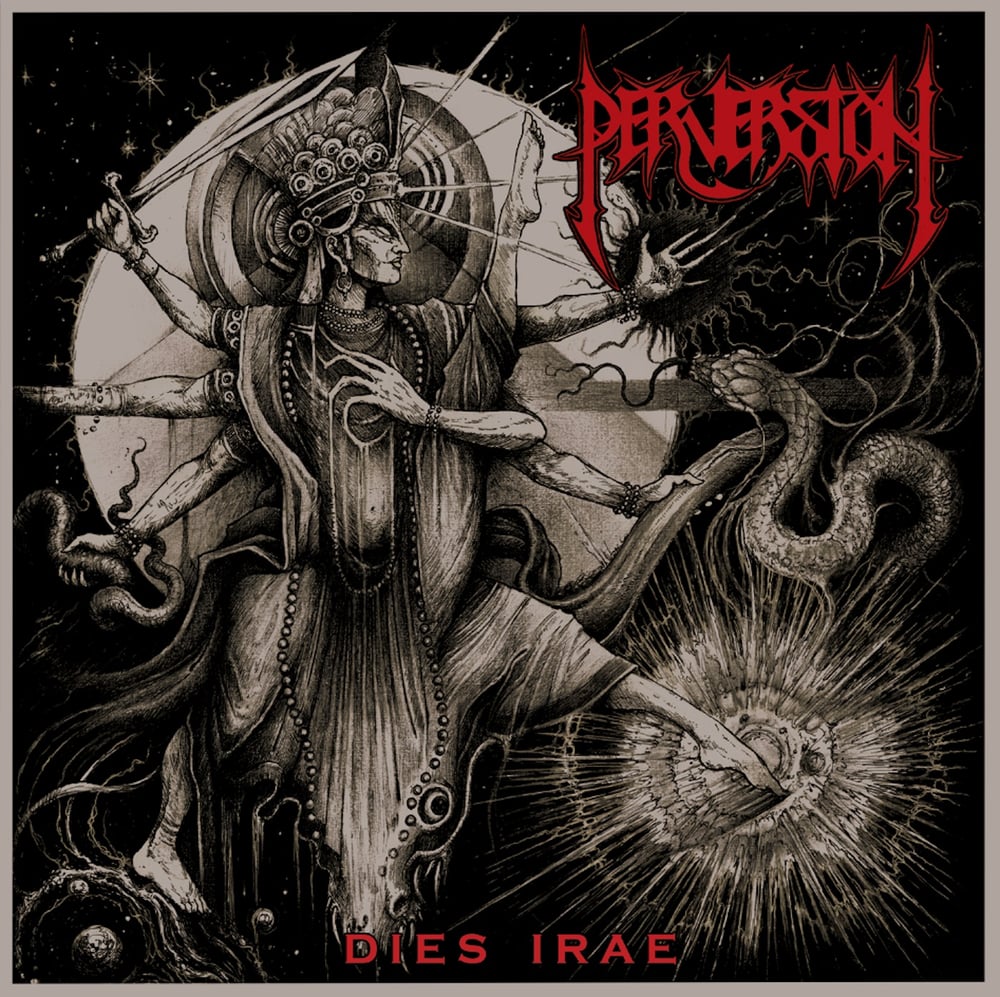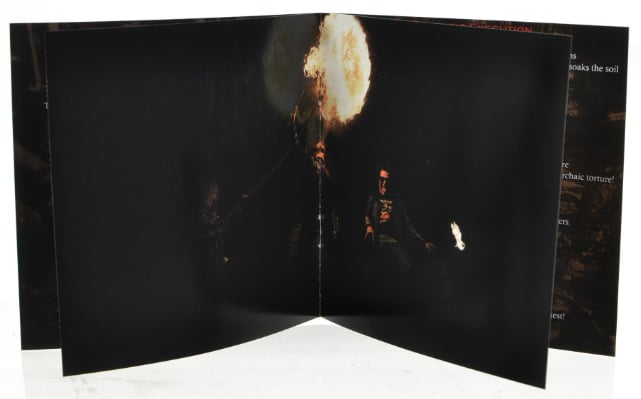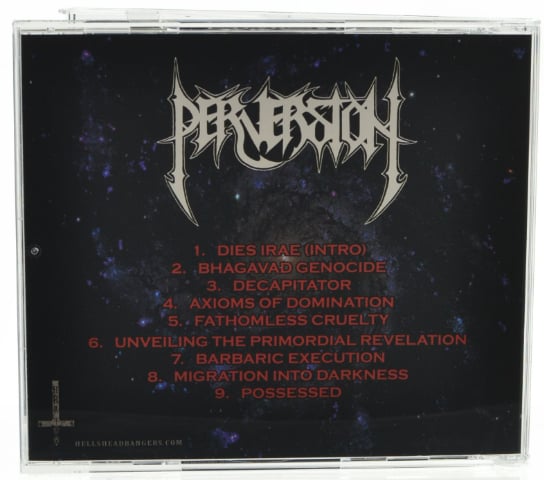 HELLS HEADBANBERS is proud to present the highly anticipated second album of America's PERVERSION, Dies Irae, on CD, tape, LP and digital formats.
PERVERSION initiated rehearsal sessions in a basement of Detroit around the fall of 2008, originally formed by Fernando Conde (guitars), Alan Hoover (bass), Neil Spencer (vocals), and James Haley (drums). In February 2009, the Metal is Death demo was released and several shows were played locally (Detroit, Lansing, and Cleveland). In the summer of 2009, the original drummer left the band and Peter Gibbs was recruited. A split 7" with Anguish was recorded and released by Black Shit Noise Productions from Texas. Neil stepped out of the band, and Fernando started doing vocals in addition to lead/rhythm guitars. A new demo was recorded, and several shows were played in the Midwest and Detroit.
In 2012, PERVERSION took part in the Filthiest of Apocalyptic Detroit four-way split. Shortly after, the first full-length, Storm of Evil, was recorded and released by Bitchy Witch Records. After several dates all over the U.S. and South America, PERVERSION started writing again and released several rehearsal tapes and a demo titled Archaic Death Metal, which is an advance of the upcoming album.
At long last, two years later, arrives that album: Dies Irae. If "archaic death metal" indeed aptly described PERVERSION previously, here they shatter that definition with an utterly ultraviolent assault on the senses. Swirling malevolently in a cauldron brewed from the darkest depths of old Brazilian proto-death, earliest German thrash, bestial detonations at the dawn of the '90s, and even '80s grindcore, PERVERSION proceed to lay waste across the album's seven central tracks, plus ominous intro and an album-closing cover of Bathory's "Possessed." That the power-trio prize songwriting amidst their barbaric onslaught puts PERVERSION in a unique realm, and one truly within that of the archaic. With chaotic-yet-composed solos flying fast and free and rough-yet-robust production heightening that sense of the diabolical, Dies Irae is maniacal black/death for true black/death maniacs.
"PERVERSION have always had an orthodox and purist ideology in regards to how black and death metal are meant to sound," the band state in conclusion. "Gathering inspiration from the degeneration of civilization, the decay in morality, and the Iron Age/Kali Yuga itself, we captured an archaic structure in our latest recordings. Our principles and convictions have remained unchanged through the years. We have forged an alliance with HELLS HEADBANGERS to release our second full-length, which is definitely not for people looking for refined, modern sounding music, but for fanatics of barbaric and punishing cacophony."