ESKHATON - HORRACLE MCD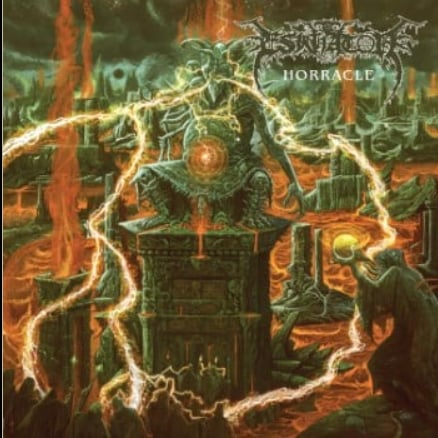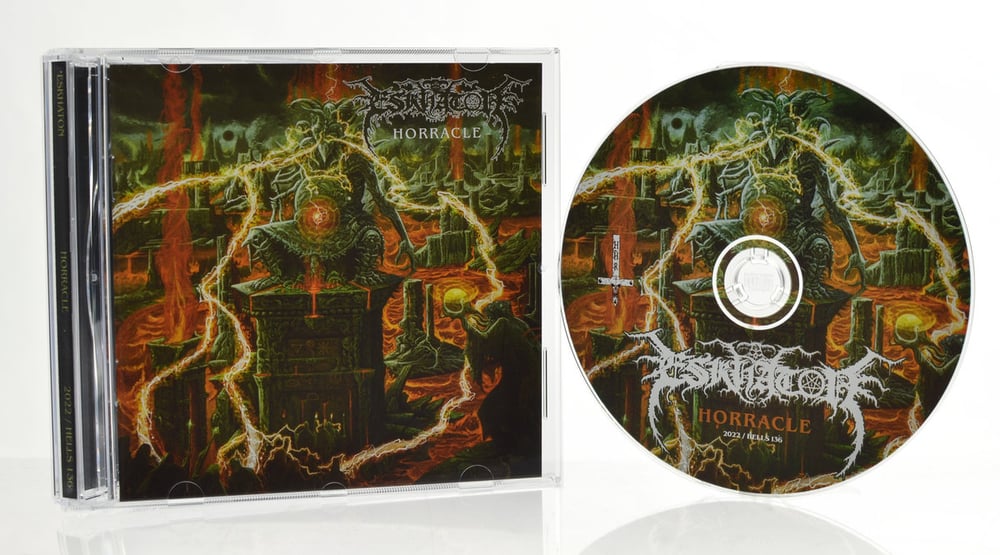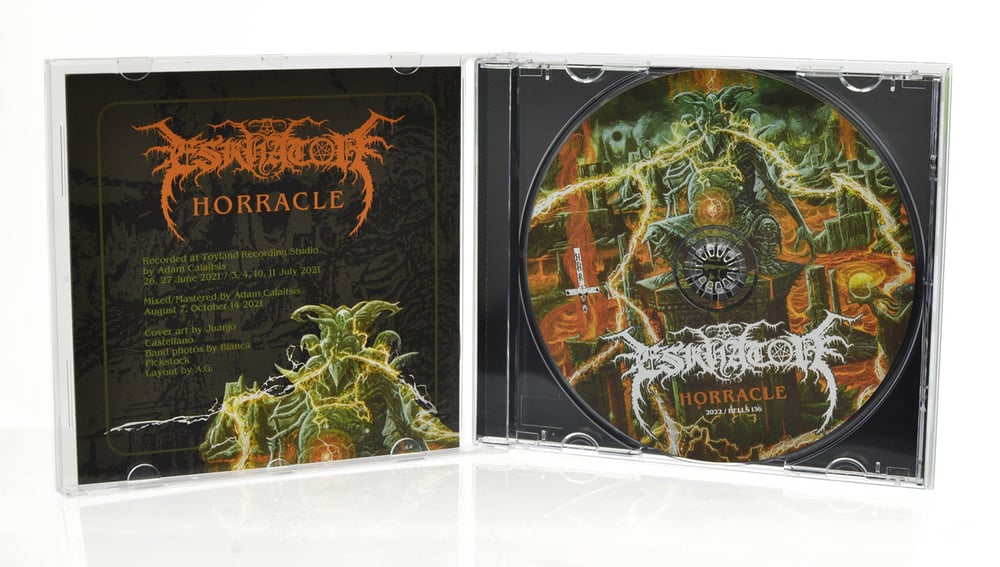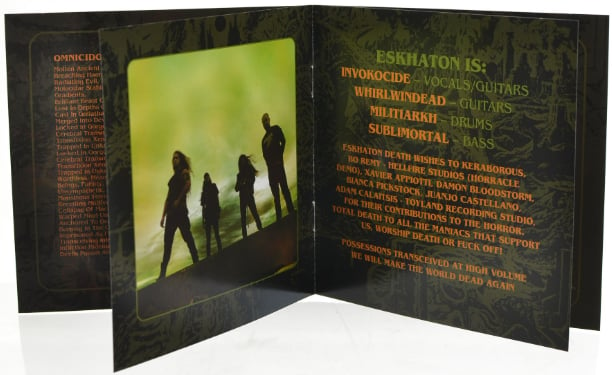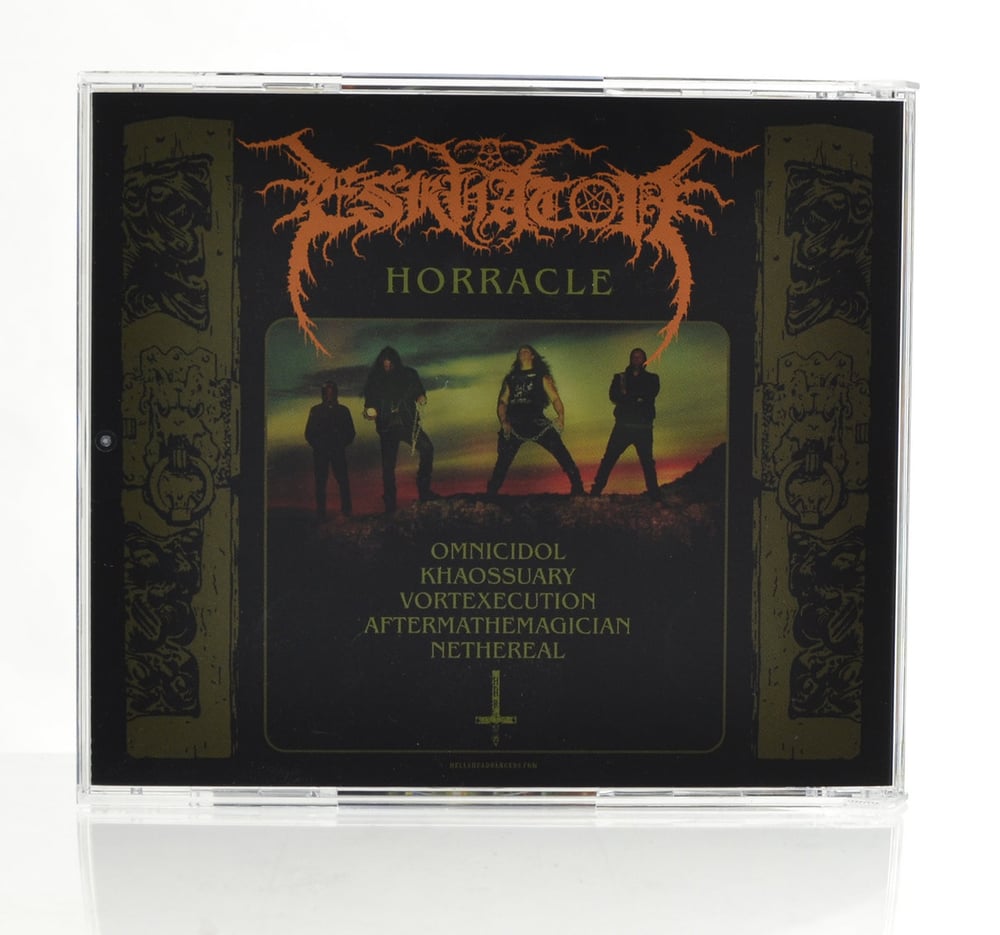 HELLS HEADBANGERS is proud to present a brand-new mini-album from Australia's ESKHATON, Horracle, on CD, 12" vinyl (OUT LATER) and digital formats.
ESKHATON is CYCLONIC DEATH METAL: absolute chaos and total death - psychotic, bestial, raw blistering ferocity and horror atmosphere - from Melbourne, Australia. ESKHATON means Total Death: the end of all things and time.
Formed by Invokocide (vocals/guitars) in 1999, with the addition of Whirwindead (guitars) in 2002, it was not until November 2008 when Hammerkill joined on drums that the lineup was able to record, with bass work done by Whirlwindead and Invokocide until a bassist could be found. Two albums and an EP were recorded and released between 2011 and 2014, with the EP being unreleased until 2018. The lineup changed in 2015 when Militiarkh was possessed to take hold of the drums, who later also did live shows for HOBBS ANGEL OF DEATH.
Live shows for ESKHATON began 2014 after Abyssnil (Ignivomous) joined on bass 2014-16, and following live efforts of Telesmaniak 2016, Christfallen 2017, Keraborous (Inverloch/Ignivomous) 2018/19. In 2020, Sublimorkunt was possessed for the bass role and the coming Horracle recording plus future recordings.
To date, ESKHATON have released three albums, with 2018's Omegalitheos being the most recent offering and which sent the band on a barrage of destruction in Australia, New Zealand, Mexico, and twice in Europe between 2018-2019, alongside such bands as Incantation, Cemetery Urn, Impetuous Ritual, Diocletian, Heresiarch, Sabbat (Japan), King Parrot, Nocturnal Graves, Watain, Cult Of Fire, Krisiun, Drawn And Quartered, Funebrarum, Krypts, Interment, Venenum, Mitochondrion, Force of Darkness, Weregoat, Tombmold, Godless, Nocturnus AD, Full Of Hell, Mispyrming, Inverloch, Beheaded, Altarage, and many more, including two performances at the Brutal Assault fest in consecutive years plus the afterparty show in Prague.
BEWARE OF THIS TORMENT !!!!!!!!!!!!!!!!!!!