CANNIBAL CORPSE - THE URELEASED 1994 DEATHBOARD RECORDING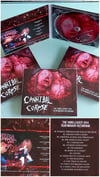 Live recording from The Bleeding tour,
Final tour with original vocalist Chris Barnes!
Track list
01. Staring Through The Eyes Of The Dead
02. Fucked With A Knife
03. Stripped, raped and strangled
04. The Undead Will Feast
05. I Cum Blood
06. Covered With Sores
07. Pulverized
08. Born In A Casket
09. Gutted
10. Addicted To Vaginal Skin
11. The Bleeding
12. Put Them To Death
13. Force Fed Broken Glass
14. A Skull Full Of Maggots
15. Hammer Smashed Face
Chris Barnes - vocals
Alex Webster - bass
Paul Mazurkiewicz - drums
Jack Owen - Guitar
Rob Barrett - Guitar
Soundboard sound quality!
The last tour with Chris Barnes at Cannibal Corpse!
Digipak CD limited to 500 copies WORLDWIDE !!!